USER GUIDE FOR FUEL LEVEL SENSOR RESISTIVE OUTPUT CAP10G
This document is applied for the following products
1. Introduction
CAP10G is the industrial version of PulseCAP10, designed specifically for generator fuel monitoring applications. The CAP10 has 240..33 ohms resistor output allowing direct connection to a generator controller. It is compatible with most popular generator controllers on the market such as DEEPSEA, EMKO, DATAKOM, COM AP, MGS, SMART GEN, WOODWARD, POWERCOMMAND ... CAP10G with high precision up to 0.5%. Measuring range from 100mm - 3500mm. The sensor has CE EMC certification according to EN61236-1 standard.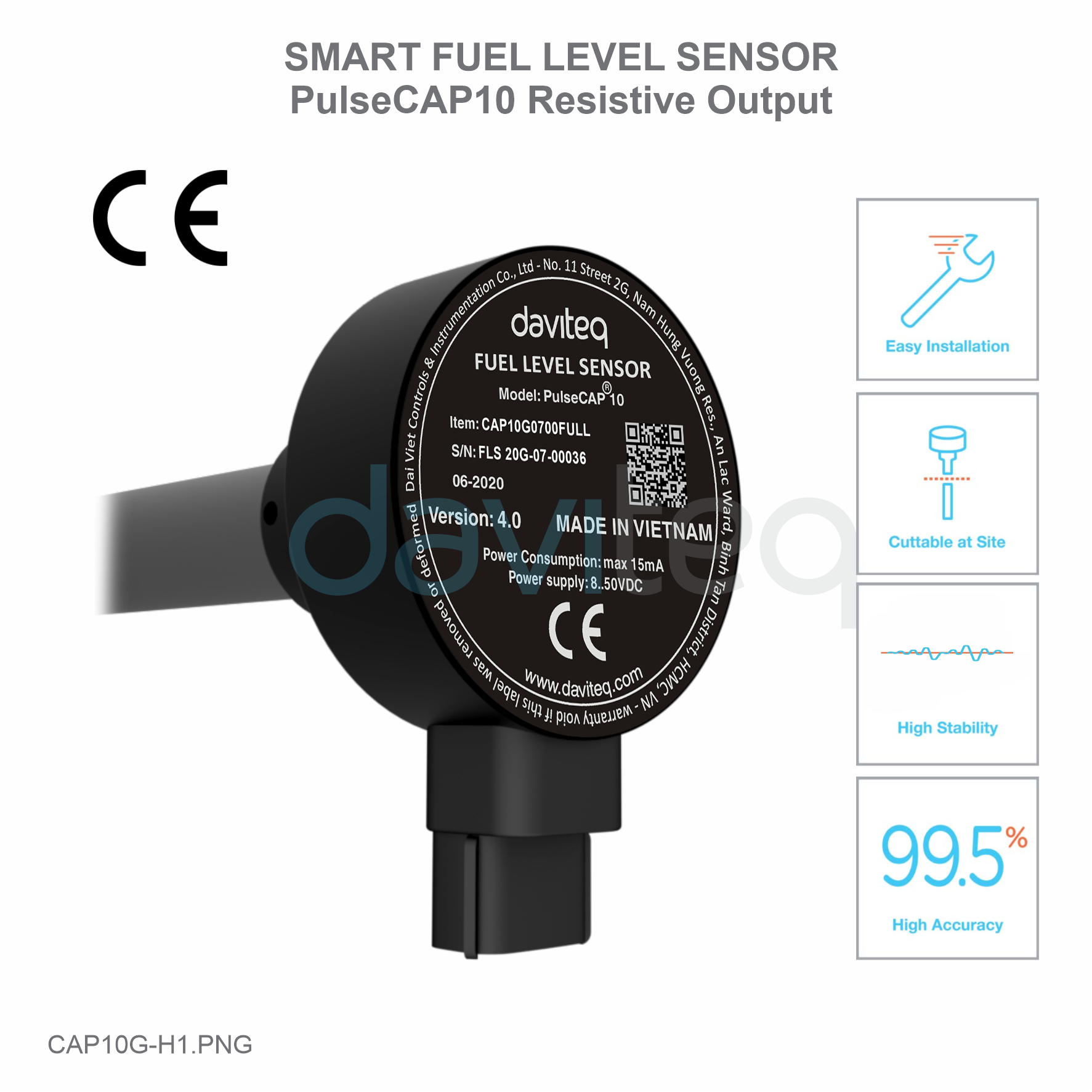 2. Notes
The technicians who install sensor, must be graduated from college of mechanic or electric.
The mechanical installation staff (drill, cut, grind, etc.) must have skills in mechanical engineering.
The electrical installation staff (connect, etc.) must have skills in electrical engineering.
The technician must be trained before using.
3. Safety
CAP10G is intended to use with Diesel Oil, Vegetable Oil.
CAP10G must not be used with other flammable fluid such as Gasoline, Alcohol, Ethanol, Acetone, Toluene or other solvents.
Be careful while drilling, cutting, grinding, etc. The fuel tank or other flammable fluid.
Daviteq is not responsible for compensation in case of explosion to bodily injury or property damage.
4. Note Before Installation
Read specifications thoroughly and make sure that its output are suitable to reading devices.
Power supply must be in the permitted range.
Do not take out the label and take off the lid as this will lead to the instability of the sensor and manufacturer could deny warranty. (except cutting of sensor length within the allowed range).
Make sure all the necessary tools are ready before the installation.
CAP10G be equipped with screws. We advise customers should use stainless steel rivets to fasten the plastic flange onto tank for all type of tanks and only using screws for the thick and hard ones.
5. Specification
| | |
| --- | --- |
| Sensor length | Standard 700mm, 1000mm, optional 1200 or 1500mm. Cuttable down to 200mm. Longer than 1500mm, suggest to use Industrial type sensor CAP10CN |
| Output | 240..33 ohms |
| Power supply | 8..50VDC |
| Consumption | max 20mA |
| Working pressure | -1 .. 2 barg |
| Working temperature | -40 oC .. + 85 oC |
| Accuracy | +/- 0.5% of span (at 25 oC) |
| Temperature drift | < + 0.03% of span per 10oC |
| Resolution | 1/1000 of span |
| Sensor materials | Alloy & Engineering plastic |
| Electrical connection | 3-way connector IP67 from MOLEX with 3m shielded cable as standard |
| Housing | Cast alumium, IP67 protection |
| Process connection | Plastic flange |
| Standard accessories | flange, o-ring, gasket, protection covers, self-tapping screws, twisted seal, fuse & fuse holder |
| Certification | CE-Marking per EN61236-1 (with test report) |
6. Full Package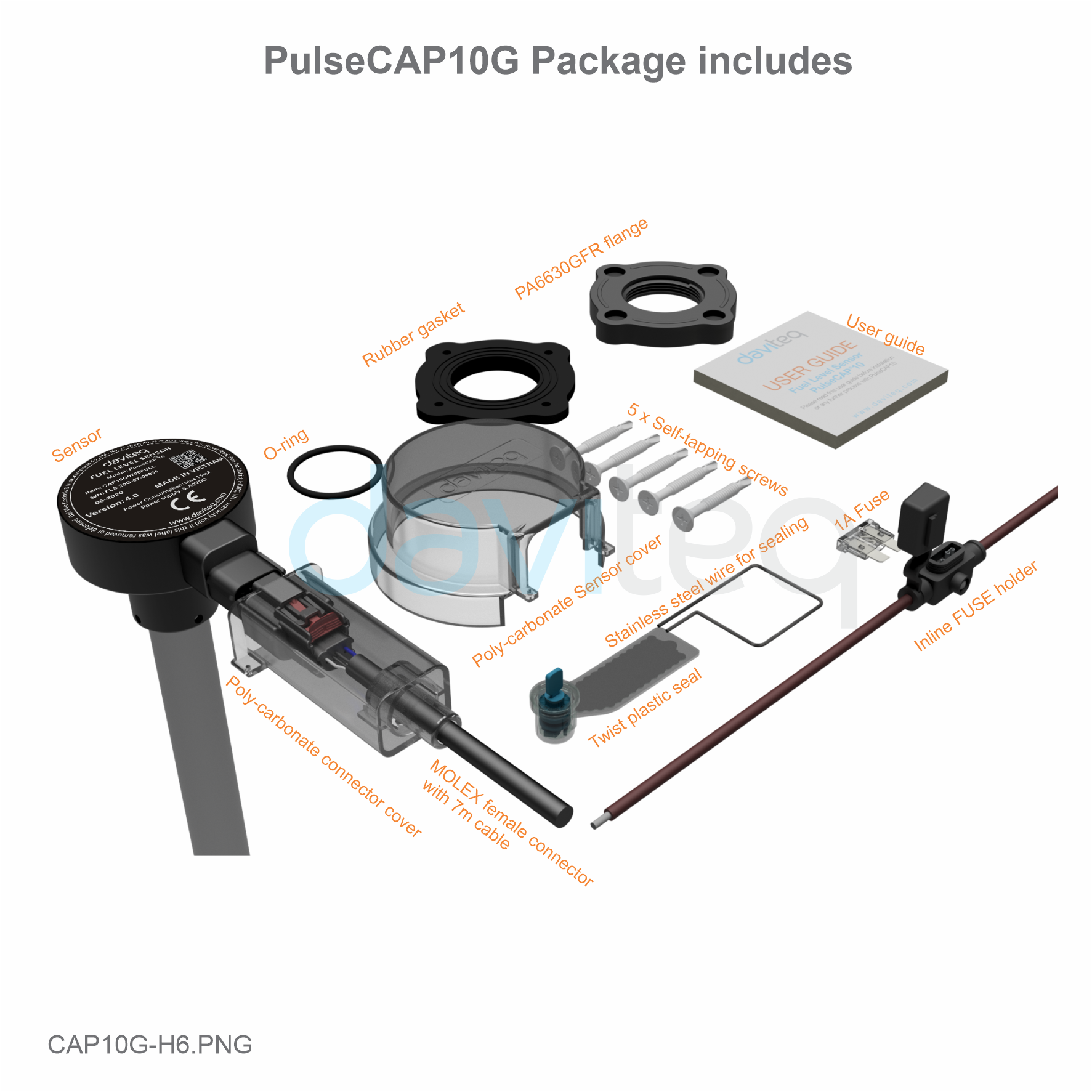 7. Tools
No

Tool Name

No

Tool Name

01

Drilling machine

10

Drill (Φ38)

02

Pump

11

Silicone gasket

03

Rivet clippers

(In case of using stainless steel rivet)

12

Twist drill 4 mm

(In case of using stainless steel rivet)

04

Tube cutter

13

Electrical tape

05

Swivel Blade

14

Cutting pliers

06

Hacksaw

15

Phillips screwdriver

07

File

16

Pencil

08

Tape measures

17

Multi Meter

09

Allen key 2 mm

18

Calibration can
8. Sensor Installation Guidance
Step
Discription

Note
1
Remove fuel: Remove all fuel from the tank.

Some tank have been welded with oil filter and have float level sensor installed, so it is necessary to take out the float level sensor before removing the fuel.

2

Clean the tank

Must clean the tank thoroughly.

3

Central hole locating: The hole will be in the center of tank's up-per side or closest to center.

This is an important step as it will directly affect the stability of the fuel level data.

4

Drilling the central hole:

After determining the center of the oil tank, we clean the surface and use a 38 mm drill to make a hole on the oil tank.
Remove any burrs from the drilled hole by a file.

Before drilling, it is vital to check whether the hole is affected by the internal metal frame or obstacles at the bottom the tank.

5

Flange installation:

Place the 4 mm rubber gasket at the center of the tank's upper side.
Place the plastic flange onto the rubber gasket (4 mm).
Mark 4 points at the bolt hole.
Use screws /rivets to fasten the 4 mm rubber gasket and the plastic flange onto tank.

Only using screws for the thick and hard tanks.
Unplug the screw/ rivet symmetrically.

6

Sensor cutting:

After flange installation, we determine the length of the sensor to be installed as picture below:

C = L+20+20-(H+14) => C = L+26-H (mm)

C: Length to be cut.

L: Original length of the sensor.

H: Height of the tank.

 

*Example:

Sensor length is L = 2000, H = 1700 mm => C = 326 mm => Cut the sensor pipe length of 326 mm.

7

Calibration:

After cutting, make sure the sensor tube is clean.
Re-plug the Filter footer and tighten the screw.
Turn on the sensor in at least 30 seconds in order for the sensor to automatically recognize its new length.

8

Final:

Place the O-ring on the top of the threads, ensure that it can touch the aluminum housing of the sensor  (as below picture):

Install sensor into the threads of flange and turn it in clockwise direction.
Using the O-ring enables to rotate the sensor within 180 degrees from final tighten position and assuring that the oil will be not spilled (as below picture):

Use the 2mm Allen key to lock the hex bolt to protect the sensor rotate backwards.
Connect the sensor with the cable.
Use sensor head seal to cover the sensor and then use plastic and then use plastic twister seal to lock the head seal and connector seal to protect the sensor.
9. Disassembly Guidance
Please follow the below steps:
Note

Step 1: Remove the cover

Step 2: Remove the terminal connector

Step 3: Use the 2 mm Allen key to unlock the hex bolt

Step 4: Turn the sensor in counter-clockwise direction

Do not hold the male connector to rotate sensor directly, that can make the male connector broken.

Do not use locking pliers, pipe wrenches, etc. to twist the sensor as this cause damages the structure of the sensor such as cast aluminium housing, label, signal cables (connector), circuit board, ect. and it will not be covered under warranty.
10. Wiring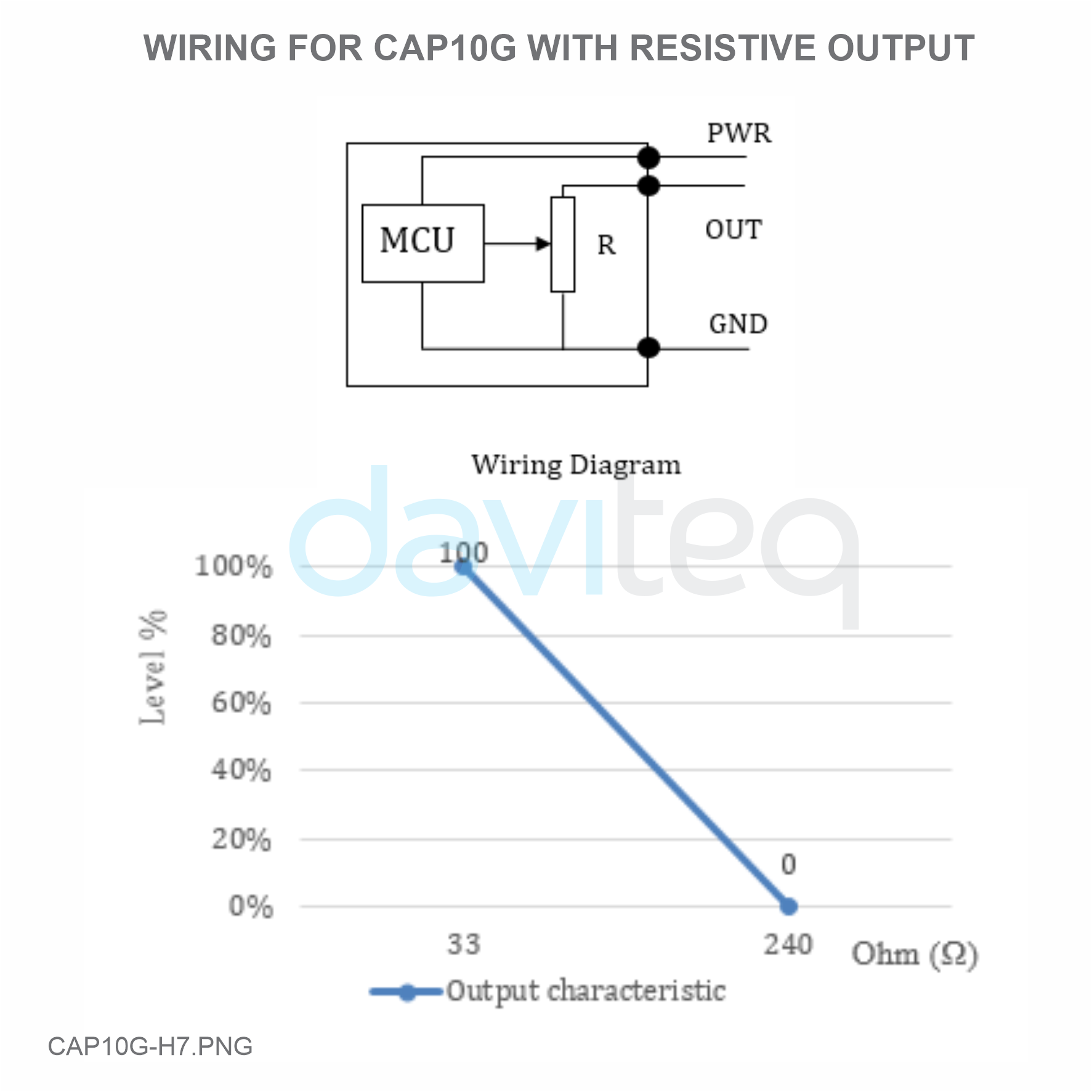 10.1 Follow Labels in Wires:
Each cable includes wires which are marked labels according to types of connection. (user should not cut these labels before installation to avoid confusing)
10.2 Follow Wire Colors:
White:

PWR+(8...50VDC)

Blue:

PWR-(OVDC)

Black: Resistive Output (240.33 Ohm)
Recommend to use 24VDC power.
The signal cable from sensor should be protected by corrugated hose or the Φ16 plastic tube, keep the cable avoid high temperature areas.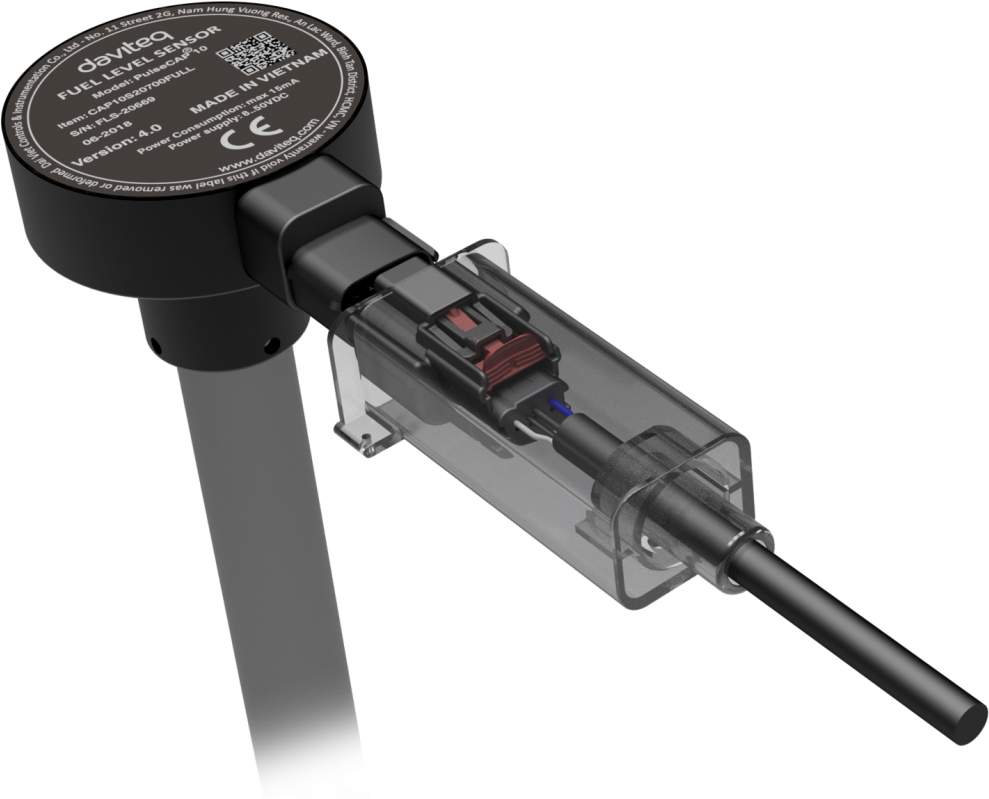 11. Periodic Cleaning Guidance
Periodically clean the oil tank 2, 3 or 6 months depending on usage and contamination.
Periodically clean the sensor and filter footer 2, 3 or 6 months by:

Cover a sensor's vent before using the air sprayer for another.
Remove and clean the filter footer.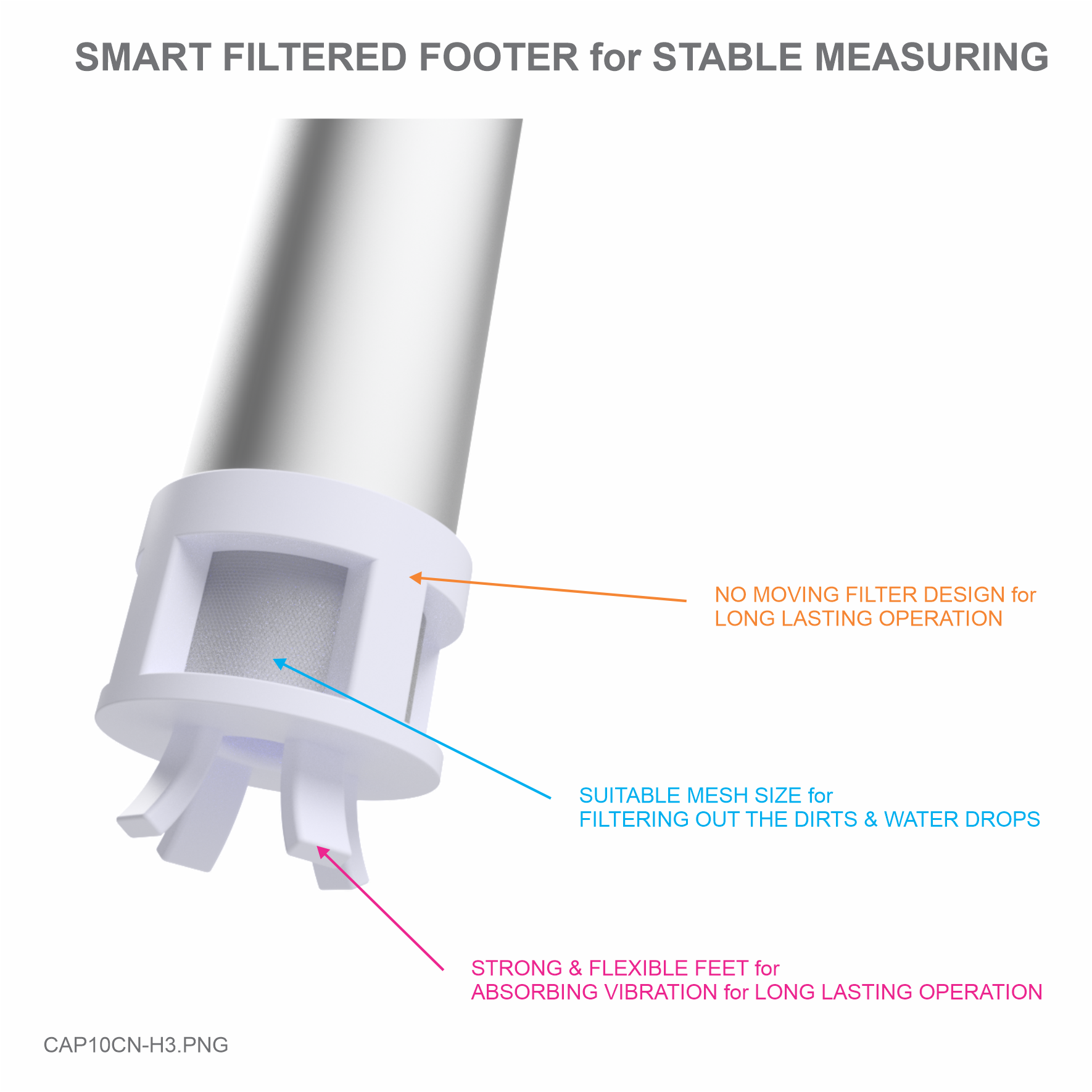 12. Troubleshooting
No.
Phenomena
Reasons
Solutions
1



No output

Sensor's powering wire is damaged

Check out on the sensor's powering wire

Overpowering has burnt the signal cable and circuit board

Send  to manufacturer

Being tampered

Check the seal again before sending back to manufacturer
2
Signal interference
Sensor was installed too far from  central hole of tank
Install sensor as closest as possible to the central hole of tank (the common point of 02 diagonals)
3



Unstable output with many significant strikes

Accesories burnt or there is liquid inside of board

Send to manufacturer

 

Connection to power supply is loose

Check the connection wire

There are impurities in oil tank, such as: boil, mud, sand, water,...

Clean tank as well as sensor
13. Warranty
Warranty is applied for CAP10G fuel level sensor manufactured by Daviteq Technologies Inc (Daviteq).
CAP10G fuel level sensor will be warranted for a period of eighteen (18) months from date of delivery.
13.1 Free Warranty Condition:
Manufacturer undertakes to guarantee within 18 months.
Product failed due to defects in material or workmanship.
Serial number, label, warranty stamp remains intact (not purged, detected, edited, scraped, tore, blurry, spotty or pasted on top by certain items).
During warranty period, if any problem of damage occurs due to technical manufacturing, please notify our Service Centre for free warranty consultancy. Unauthorized treatments and modifications are not allowed.
Product failed due to the defects from the manufacturer, depending on the actual situation, Daviteq will consider replacement or repairs.
Notes:
One way was shipping cost to the warranty centre shall be paid by Customers.
13.2 Paid Warranty
The warranty period has expired.
Product is not manufactured by Daviteq.
Product failed due to damage caused by disasters such as fire, flood, lightning or explosion, etc.
Product damaged during shipment.
Product damaged due to faulty of installation, usage or power supply.
Product damaged caused by the customer.
Product rusted, stained by effects of the environment or due to vandalism, liquid (acids, chemicals, etc.)
Product damaged caused by unauthorized treatments and modifications.
Note:
Customers will be subjected to all repairing expense and shipping cost.
If it arises disagreement with company's determining faults, both parties will have a third party inspection appraise such damage and its decision be and is final decision.
Warranty service support is available from Monday to Friday (excluding Public Holidays as prescribed)
08:00 AM - 12:00 AM
01:30 PM - 05:00 PM
Hotline: +84.906.885.858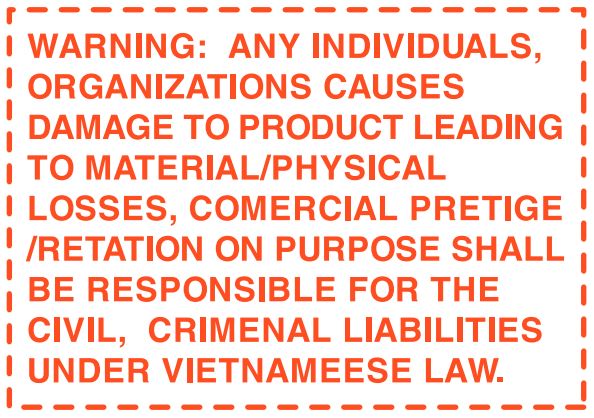 14. Support contacts