Instructions to add the Base Stations and Devices to ThingPark Network Server (ThingParkEnterprise SaaS Community)
ThingPark Enterprise SaaS Community is a SaaS platform that is available for free to test connection from devices to the Actility network server.
1. Add Tektelic Model T0005204 to ThingPark Enterprise SaaS Community.
1. Log in to your ThingPark Enterprise account via the link: https://community.thingpark.io/tpe/
2. Browse on the left panel to Base Stations, click the drop-down menu then click Create.
3. Select the base station's Tektelic.
If you do not find the Tektelic, click View More Manufacturers.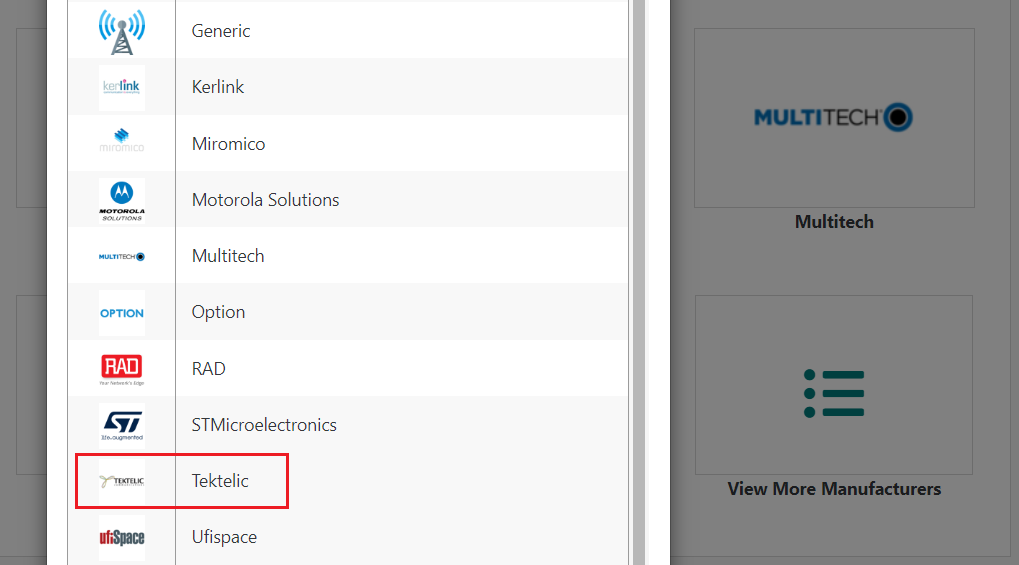 4. On the following screen, select the Model: Micro 8-channels from the drop-down list.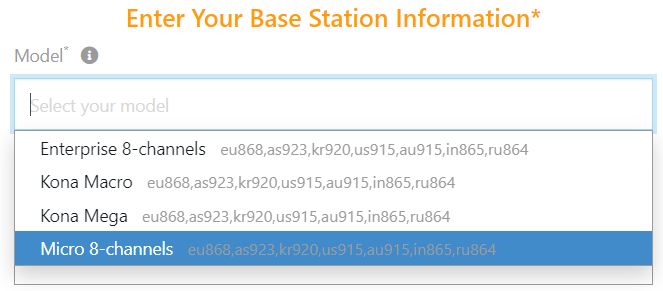 5. Fill the form as below table:
Field
Input field
Name
Base station 1 
LRR-UUID

647FDA-647FDA008526

RF region

US 915MHz (8 channels: CH0-CH7)

Public Key

-----BEGIN PUBLIC KEY-----
MIGfMA0GCSqGSIb3DQEBAQUAA4GNADCBiQKBgQC/6v1EEK5fTiZHKEyo4oDEJaso
HY3cOWXxMKx6ZSGajzPQzLjcZgmIv82EruclBe8SVuCW4vj92Squ6KbYavmP//tM
8G9HiM0BzUrb0s8PAilHyuNIzS6h6So2XfMByf7MuYbC131Uy2y2bLRiZuFq5zOA
4ZHxqmBnG+whArjkgQIDAQAB
-----END PUBLIC KEY-----
Input exactly as above Input field column, except Name field is user-defined and is different from existing base station name on the network server.
After filling registration form, click CREATE to complete adding base station to the network server
2. Add Daviteq's LoRaWAN devices ThingPark Enterprise SaaS Community
ThingPark Enterprise supports all Classes of LoRaWAN® devices. By default, the sensor supports Over-the-Air Activation (OTAA) with local Join Server that is programmed at the factory.
Manual provisioning of OTAA devices using a local Join Server. To learn more, see Activation modes.
1. At left panel of the screen of the Thingpark GUI, click Devices > Create from the dashboard.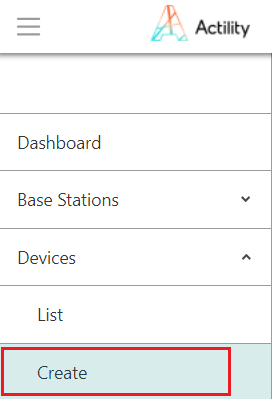 2. Select the Generic supported by your device on your screen.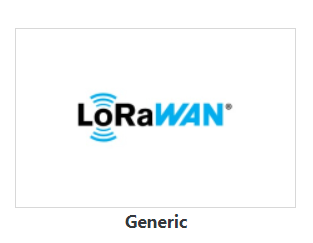 3. Select the Model of LoRanWAN 1.0.3 revA - class A au915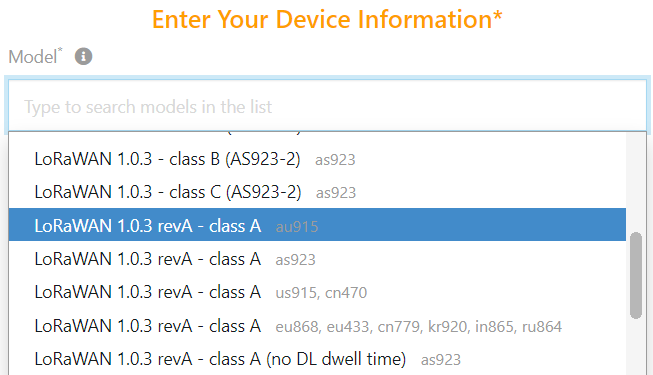 4. Fill the form as below table:
| | |
| --- | --- |
| Field | Input field |
| Name | As user-defined |
| DevEUI | As DevEUI on label of the device |
| Activation mode | Over-the-Air Activation (OTAA) with local Join Server |
| JoinEUI | Input JoinEUI. This value read on memory map or on the label of the device. The default value is 0102030405060708 |
| AppKey | Input AppKey.This value read on memory map or on the label of the device. The default value is 0102030405060708090A0B0C0D0E0F10 |
After filling the registration form, please click CREATE to add devices to the network server
---
Reference link:
- Managing your radio access network: https://docs.thingpark.com/thingpark-enterprise/7.1/Content/Manage-your-radio-access-network.htm
- Activating a device to your IoT network: https://docs.thingpark.com/thingpark-enterprise/7.1/Content/Activate-device-to-iot-platform.htm
- Activating a device to your IoT network: https://docs.thingpark.com/thingpark-enterprise/7.1/Content/Add-connection-to-iot-network.htm